Next meeting 8 February, 2022 7PM at Crossroads Church. If you cannot make it you can attend on zoom
Stay Healthy everyone.
It is time to get ready for Burns' Nicht event will be held Saturday January 22nd!
STACEY KRUSE IS STILL LOOKING FOR SOMEONE TO BE THE MASTER OF CEREMONIES FOR BURNS' NICHT. Contact Stacey Kruse (210) 421-2943 (cell)
To donate items for the Silent Auction, please contact Joan Graham Kruse 210-421-2954 (cell) or hkcons2@yahoo.com (email).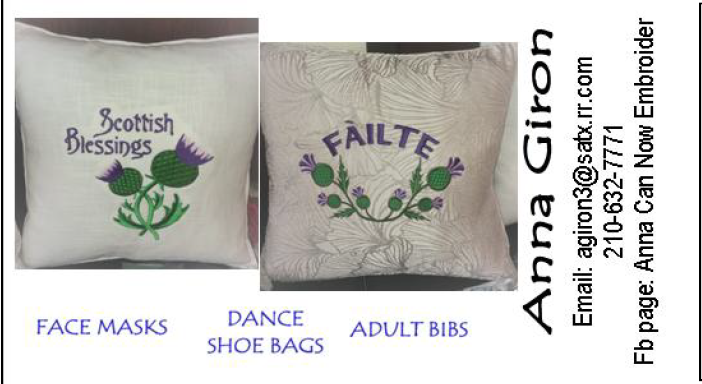 The Scottish Society of San Antonio is a non-profit organization incorporated within the State of Texas whose objectives are to stimulate, encourage, support, and sponsor activities which lead to the preservation of Scottish customs, traditions, and culture.
Meetings are held the second Tuesday of the month at 7:00PM at the Cross Roads Church, 8102 Midcrown Drive, Windcrest, TX 78239
Join us to celebrate the history and culture of Scotland