In loving memory of those we have lost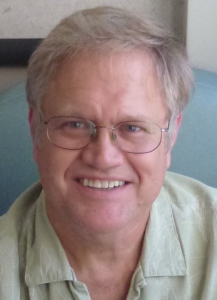 Society member Keith Douglas Larson, age 61, of San Antonio, passed away unexpectedly on Friday, July 20, 2018. He was born March 22, 1957 to Glenn Edward and Barbara Ann (Traeger) Larson in San Antonio, Texas.
Keith enjoyed going to Scottish events, including picnic, Folklife, and haggis and shortbread cooking sessions. At Folklife, he liked helping with the fish and chips fryer and the shepherd's pie plates.
He grew up as a military brat and lived in many places like El Paso, Washington D.C., and Vicenza, Italy where he played little league. He graduated from Thomas Jefferson High School in San Antonio and San Antonio College for HVAC. Keith started his own business called Independent Service Company where he would repair and install air conditioning and had a loyal following of customers. Keith was known by his family and friends as
"MacGyver" because of his handyman work and do it yourself projects.
He met Melinda Gayle Hadden playing church volleyball where they would practice together. They spent more time together participating in multiple church activities like canoeing, watching sporting events, and hiking. They later married in September 6, 1986 in San Antonio, TX.
After they married, he joined the church choir and helped the youth group in their activities such as seasonal productions, props, and performances. His love for music and productions led him to help his son with his band activities in middle and high school. He enjoyed camping with his son and served as a Boy Scout leader where he helped Chris and his friends become Eagle Scouts. He received a Soaring Eagle Award for his leadership. He also enjoyed volunteering in 4H with his daughter Whitney where he served as a leader in the Helotes 4H Club in gardening and dog projects. He helped Whitney get the San Antonio Livestock Exposition college scholarship. His favorite past times were reading, gardening, and golf. He would play golf with his neighbors and brothers, he even taught friends and family how to play, and when he retired he was able to enjoy golfing more.
Keith was preceded in death by his parents and is survived by his beloved wife Melinda, children Whitney
and Christopher, grandchildren Makayla & Kaitlyn, siblings Fred Smouse, Glen, and Bennett Larson, and nieces and nephews Matthew and Amanda Larson and Douglas and Dustin Hadden.